LT-Indonesia Conducted Breakfasting Event with Customers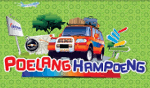 In this Holy month of Ramadhan, PT. Lintas Teknologi Indonesia was held Break Fasting Event on 7th August 2012 at Four Seasons Hotel, Jakarta. This event was attended by management and employees of PT Lintas Teknologi Indonesia and also customers and principals who have many years being our partners.
The theme is Poelang Kampoeng, it defined of togetherness, as we are all in the spirit of relationships with partners as a big family.
Conjunction to this event, PT. Lintas Teknologi Indonesia aware of the importance of social responsibility, for each years active in performing activities which are privately organized in order to help the fellows. In this Ramadhan, we give 20 bicycles to help grocer or trademan to their mobility. We facilitated them to make their work easier and encourage to work harder.
This event was livened up by Kenny Joe, Indonesia Saxophonist with MC, Mr. Santoso and Ms. Nita Pindy and presented with Tausiyah Ramadan by Adipura.